Inherit the Sheep was founded in 2006 by Clay and Tersilla Gregory – both of whom have been involved in the Napa wine industry for a number of years. In 2001 the Gregory's found a small piece of land in Coombsville (a region in Napa east of the city of Napa). They made several trips to the property and observed several sheep on site. The previous owners told the Gregory's the sheep come with the land if you decide to purchase the property. Clay and Tersilla were traveling when their real estate agent called and told them an agreement had been reached. At that point when Clay told Tersilla this, she made what was probably the quickest decision ever for the name of a wine label. Tersilla came up with "inherit the sheep" on the spot and the name stuck. The three sheep depicted on the label for every vintage is based on one of her paintings.
This slightly less than 2 acres had never been planted to grapes before yet it was surrounded by a fine pedigree of vineyard neighbors including Caldwell Winery and Quintessa's Faust vineyard. The Gregory's planted the vineyard in 2001 after Clay met with his neighbor John Caldwell; John is an expert in soils and how they relate to choosing clones and rootstalks. He used to own a grapevine nursery and in fact has published a book about soils and clonal selections. Caldwell's vineyard is planted to a number of varietals including Cabernet Sauvignon, Syrah and Cabernet Franc and it made sense to also plant these varietals in Inherit the Sheep's vineyard.
Clay has been in the wine industry since graduate school in the late 1970's when he worked at a small winery in the Santa Cruz Mountains. At a small winery everything is often done by hand including bottling, barrel work etc and he gained valuable hands on experience during his time there. Not only was his passion for wine sparked at this winery but also his spirit for the wine industry in general. He remembers when machinery broke during harvest and a neighbor pitched in to help; winemaking is a business where the sharing of information is typically the norm. Contrast this to industries such as Entertainment or High Tech where practices are generally cutthroat and competitive.
No winery did more to promote that spirit of cooperation in the Napa wine industry than Robert Mondavi and it was here in 1989 that Clay took his first Napa winery job. It was also here where he met Tersilla.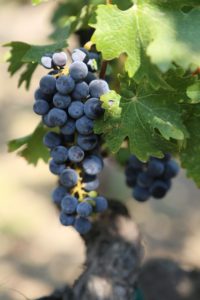 Inherit the Sheep produced a Syrah for the first few vintages but ultimately budded this varietal over to Cabernet Sauvignon so they could focus on a single varietal. 2008 was their last vintage – we tried the 2007. The nose is fairly aromatic and elegant with notes of darker fruit, notably blackberry complemented by aromas of white pepper. The mouth feel is smooth, supple and rounded with fine grained tannins. After the fruit finishes on the rather quick clean finish, notes of cedar linger slightly longer.
For the first few vintages the different varietals were initially co-fermented and the final wines were blends – however after a number of trial tastings they found the varietals on their own were superior in taste, structure and mouth feel. Today they focus on one varietal and one wine each vintage; an estate Cabernet Sauvignon that typically is slightly blended with their own Cabernet Franc.
The bouquet is deep and seductive on the 2006 Cabernet Sauvignon showing a nice mix of dark fruit along with a smokiness (cigar) and nuances of spicy pepper. The mouth feel is rounded classic Coombsville fruit – soft upon entry but quickly gaining layers of mouth filling ripeness including rich flavors of blackberry and black currant. The tannins are silky and smooth and are well integrated with the fruit.
The 2007 is still young but it already shows more complexities than their 2006 vintage; this is a wine that will do well with some bottle age. The bouquet is somewhat earthy and minerally but as it breathes aromas of sweet fruit come to the surface along with hints of mocha. The mid palate is soft and layered; the finish is slightly longer and more structured than the 2006 vintage. The tannins are fine grained and linger delicately.
All their wines are bottled unfiltered. Production is very low even by Napa standards. With around 1.5 tons/acre of the Cabernet Sauvignon a typical vintage usually has a production of around merely 200 cases. You can find their wine locally at Backroom Wines and Bounty Hunter in Napa as well as select Napa Valley restaurants including La Toque. Also of note is that Inherit the Sheep donates 5% of their sales to SLOW Food USA ( www.slowfoodusa.org ). For more information visit: www.inheritthesheep.com
NOTE: website offline 2018, may no longer be producing – will archive this review as we get more information.