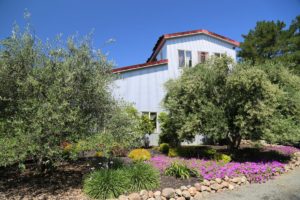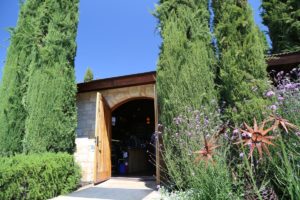 Hagafen Cellars Hagafen Cellars has been producing excellent award winning wines for 30+ years – their first vintage was merely a barrel of wine or about 24 cases! Their production has certainly grown since then, but they are still considered boutique with an annual production of about 8000 cases. The winery was founded by Ernie and Irit Weir in 1979; their first commercial release was from 1980.
The winery is located just south of the Stag's Leap District along the Silverado Trail; the surrounding estate vineyards are entirely planted to Cabernet Sauvignon. The entrance is on a gravel road which bisects the vineyards. Drive slow, grape vines do not like dust!
"Hagafen" in Hebrew literally means "the vine". This is a Kosher winery (there are only three producers we are aware of currently making Kosher wines in the Napa Valley – and this was the original one). Kosher wines in part mean that no animal products are used during the making of the wine including egg whites, which are often used during the fining process in wine making. Rather than fully boiling or nearly boiling the wine for longer periods Ernie uses a flash pasteurization technique which quickly heats the wine and then as quickly, cools it back to room temperature.
For a wine to be kosher, only Sabbath-observant Jews may touch any part of the wine making process – from picking the grapes to crushing until either the bottles are sealed or the wine is pasteurized.
One tour is offered daily at 1030am but you need to make an appointment ahead of time. This tour starts in the vineyards, visits their production facilities and usually lasts about 20 minutes. It is one of the shorter tours in the valley but is a good basic introduction to a small winery. We can't say enough about the quality of their wines as well as the variety. This is old school Napa, a rare experience where guests can enjoy wines other then the obligitary Chardonnay and Cabernet Sauvignon. During our last visit, 17 wines were listed on their tasting sheet (of which you pick 5 to taste). The tasting room is small, relaxed and intimate.
Some wines are only available through their tasting room and starred wines on the tasting sheet are their "highly recommended wines". Their wines have a long history of being served at Presidential State dinners and other White House functions dating back to President Reagan – White House Presidential dinner menu's line the walls of the tasting room.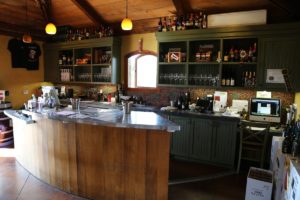 Enjoy a sweet German style Riesling? The 2007 Napa Valley Riesling has 4% Residual Sugar and originates from vineyards in Yountville. It is next to impossible to find a Napa grown Riesling due to the small acreage planted in the valley but if you enjoy sweet wines this is an excellent choice. There are enticing fruit aromas which carry directly onto the palate including pineapple, apricot and peach.
Hagafen is one of only a handful of wineries in the Napa Valley who produces a sparkling wine; during one of our visits we tried their delightful Brut Cuvée.
At the time of this review, they produce two Pinot Noirs including a deep colored rich Pinot Noir from vineyards in Yountville. Also of note is their Zinfandel (great fruity nose with nice spices about mid palate), and their Reserve (Black label) Cabernet Sauvignon with its chocolate aromas and rich fruit flavors.
It is very rare to find a late harvest Chardonnay in the Napa Valley and Hagafen's is one of the best we have tried. Right – we could go on about the wines here indefinitely but we have limited space! Friendly pourers help complete your tasting experience. Hagafen operates two additional labels including Don Ernesto (featuring "fun" and lighter wines) and Prix Wines. For more information and or to join their wine club, visit www.hagafen.com
NOTE: this review has been identified as needing a major update.