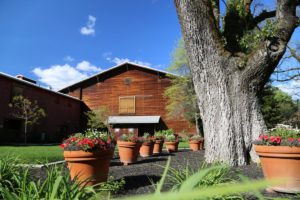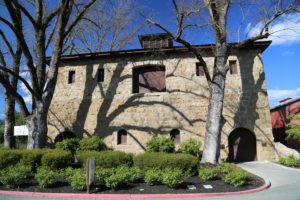 Frank Family Winery is located just east of Larkmead Winery at 1091 Larkmead Lane. Larkmead Lane is a sleepy narrow road that cuts across the northern part of the Napa Valley. There is much to say about this unique winery, especially in regards to its rich history. The original stone winery was founded in 1884 (still standing). In a twist of history, this property used to be home to Larkmead Winery (which is just down the road). In fact this original building is on the National Register of Historical Places and is worth taking a tour of in its own right. From 1952 until 1990 it was home to Hanns Kornell and only sparkling wine was made here during this time.
Several large black and white photos hang in their tasting room showing the old riddling racks and wine making operations during this time period. Founder, Rich Frank began Frank Family in 1992 – today he oversees the winery operations with his wife Leslie (his two boys, Paul and Darryl are also involved). Rich is the former President of Walt Disney Studios and Chairman of Walt Disney Television and Telecommunications. This isn't the only Disney connection to the Napa Valley. Walt Disney's only child, Diane (now deceased) and her husband Ron own a Napa Valley Winery – Silverado Vineyards.
Two tasting rooms are located in the yellow house behind the main winery and administrative offices (the former home of the prior owner). One of the tastings is for their "champagne" and the other is for their still wine. A private elegant sit down tasting room is enclosed off from the main tasting room.
The winery was completely remodeled in 2008 and it has become one of the more photogenic wineries in the northern part of Napa Valley. As of our latest visit, Frank Family owns 330 vineyard acres in the Napa area, ranging from the cool weather Carneros (their Chardonnay comes from here), to Rutherford to the very little known Capell Valley region in eastern Napa County. Remarkably they own no vineyards where the winery and tasting rooms are located.
If you enjoy sparkling wines, begin your tasting as soon as you enter the hospitality center/house. Compared to the number of commercial still wine producers in Napa there are an extremely small number of sparkling producers. This is one of the rare wineries in the valley that focuses both on sparkling and still wines and has separate tasting facilities for each. They produce a pleasing non vintage Blanc de Noirs from 100% Pinot Noir. Much of this wine's pink color comes from the short time the skins were left in contact with the juice. This is an appealing fruit driven sparkling wine – you will notice (unlike still wines), you can really feel this wine on the roof of your mouth. Tasty melon and strawberry characteristics on the palate.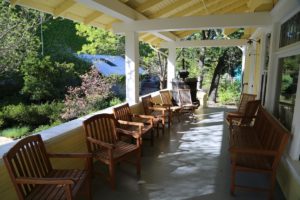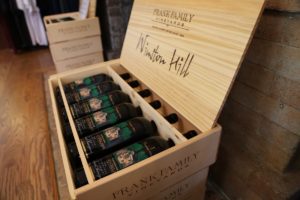 In 1919 a treaty was signed in Paris indicating that only producers from the Champagne region in France could bottle and label their sparkling wines as Champagne. The USA was in the midst of the early prohibition years and never signed this. As a result USA producers technically can bottle their sparkling wines with the word Champagne. As respect to the French most American producers do not. Frank Family, used to label their wines Champagne but are now labeled with proprietary names.
Their "signature brut" is a well-aged wine. Normally signature means your flagship wine and in this case this is one of their higher end sparkling wines, but it also takes on an additional meaning as the Rich Frank's signature is printed on the label. This wine is botteled in a Cava style bottle (pronounced Kava – the name for sparkling wine produced in Spain) which means it won't fit in normal size wine shipping boxes. We tried the 1997 vintage which is 60% Pinot noir and 40% Chardonnay (current vintage had 11 years of aging by the time of release). There is some good citrus fizz in this wine, with lemon and tangerine flavors. Keep aging this if you can resist drinking it. We found the Rouge (red sparkling wine) to be a real winner – red Champagne is not often found and theirs is a real treat. Again, this is a non vintage wine – its dark red with nice blackberry and raspberry flavors.
For being so far north in the valley Frank Family can have one of the more crowded tasting rooms. The long time wine educators are informative and friendly. In our several visits here, one word often rises to the surface about the typical drinking experience – that is the word "fun", and compared to some wineries an experience here is more about the drinking and tasting, rather than just tasting (and yes there is a difference). The atmosphere is welcoming and very social with strangers often picking up conversations among themselves. Rich Frank is sometimes here as well; he does not run this winery from a distance.
The still wine tasting can vary but it typically includes a Chardonnay, Zinfandel and Napa Valley Cabernet. The 2006 Zinfandel is a winner; the somewhat subtle bouquet is misleading as to how packed in flavor this wine actually is. Features rich black fruit flavors and various spice notes. This is a juicy ripe wine.
The 2005 Reserve Cabernet Sauvignon is a delicious vintage. It is soft, smooth and elegant with delicate yet structured tannins on the finish. If you remember tasting in their trailer type facility for many years, their current tasting room brings them on board with many of Napa's other elegant tasting rooms, not that the no frills trailer tasting was a bad thing. We hold some memorable moments from that old tasting room. Picnic tables are available directly outside the tasting rooms. Note that groups of 6 or more require appointments.
Very dog friendly.
For more information and or to join one of their wine clubs, visit: www.frankfamilyvineyards.com