Fotinos Vineyard as the name suggests, is run by the long time Napa family, the Fotinos. They have a long history in the Napa area. Their vineyards date from 1969 making them among the older growers in the Carneros region. In fact there were so few vineyards in the Carneros at this time, their small vineyard was about 10% of the total planted vineyard acreage.
NOTE: this review has been identified as needing a *major* update. We originally met with one side of the family that was producing wine from this vineyard under another label.
The Fotino's family have significant history that dates back generations, Tom's wife Danielle is a 12th generation American and traces her roots back to the Mayflower ship and her great great grandfather was one of the original owners of a land grant in the Carneros region. Today Tom handles all the vineyard management on the 11 planted acres which includes a UC Davis and a French clone Pinot Noir as well as tiny bit of Chardonnay.
This is prime Carneros vineyard terroir – with rich red alluvial soils. Tom takes a holistic approach to vineyard management and farms sustainably. He introduced ladybugs to kill pests rather than spraying, and is considering using hawks to keep birds away from eating the grapes after veraison occurs. For many years they sold grapes to other well-known wineries including Robert Mondavi, top Carneros Pinot Noir producer Saintsbury and more recently to Domain Carneros.
They are 4th generation farmers as their great grandfather originally made wine for friends and family in Greece. Chris & Tom made wine for themselves for a number of years and one year gave some of their Pinot Noir to famed chef Thomas Keller of the French Laundry. He was surprised at the quality of this "private label" and encouraged them to produce this commercially. When this encouragement is coming from someone with the stature of Keller, it pays to listen! Their first commercial release was the 2006 Pinot Noir from their estate vineyard and as of press time they also produce limited quantities of Cabernet Sauvignon sourced from the Rutherford appellation as well as Pope Valley.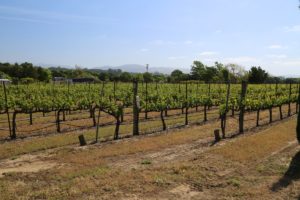 They may be a "new winery", however take note that they have been making estate Pinot Noir since 1973 under a private label, so despite their first commercial release in 2006, this winery actually has accumulated significant experience growing and making wine from this variety. They are a firm believer in releasing wine when it is ready to be released, rather than trying to get it into the market to make a sale. As a result, their wines always see at least a year in the bottle before being released.
Their initial production is 500 cases but they have plans to increase this in the coming years. This is one of the few wineries we have tasted with before they even had a release on the market! As a result our tasting was of a variety of components from the 2007 vintage which will create the final blends (including the same wine aged in barrels from different coopers).
Their Pinot Noirs have a smooth silky mouth feel which are very representative of their source terroir. The Dijon clone we tried was full of cassis and raspberry intermingled with various spices. Keep in mind the 2007 Cabernet Sauvignon from Pope Valley was a very young wine when we tried it. It is dark ruby in color with already nice aromas including an interesting mix of dried fruit, ripe blackberry overtones and spices in the nose followed by cherry and additional spices on the palate including cloves and pepper.
The 2006 Pinot Noir was released in Fall 2008 with the Cabernet Sauvignon to be released in late 2009. Fotinos Brothers supports a wide variety of charity organizations ranging from education to the humane society.
Visit: www.fotinos.com
Dr. Fotinos Interview: