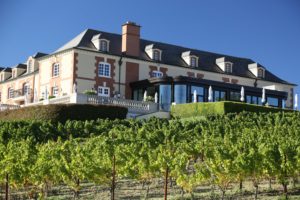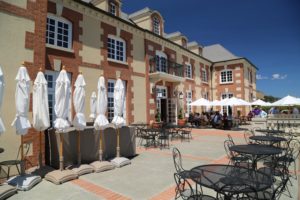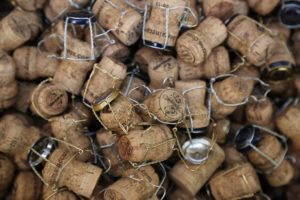 Domain Carneros is a winery building that you won't easily miss when you drive through the Carneros region of Napa Valley. The winery looks very European; it is perched high on a hill so it is easily seen from the well-traveled Highway 12. As a result, weekends combined with good weather can make for a very busy tasting experience. We have visited a number of times; Domain Carneros is always very popular with young, well dressed, beautiful & sophisticated looking people. There are only four primary sparkling wineries in all of the Napa Valley – and a stop here either in the morning or at the end of your day of tasting is a good idea. The reason for this is twofold; it's location in the far southern part of the valley lends itself well for an early or late stop – and in our opinion, sparkling wine is either best enjoyed in the early morning or after a day of still wine tasting.
The primary building was completed in 1989 but looks like it has been here much longer. It exudes old world charm as it was modeled after a chateau-style building inspired by the historic Chateau de la Marquetterie.
As you may have guessed by now, this winery has a connection to France; it is 50% owned by Taittinger, a French company who traces their roots back to the 1700's. And the other owner is the Kopf family who runs the successful Kobrand Wines & Spirits based in New York and also owns Napa based Sequoia Grove Winery and Sonoma County based, St. Francis Winery.
Taittinger has identified merely several premium sites around the world for growing Chardonnay and Pinot Noir – the two essential varietals for making sparkling wine and the Carneros region is one of these sites. Visitors walk up the lengthy steps, this grand entrance is a popular place for selfies (past Pinot Noir vines growing to your right and Chardonnay vines to your left). Short walkways lead to the vines where you can examine the grapes in closer detail (August and early September are ideal times to take closeup "facies" with grape clusters as your backdrop). Walk up the steps until you reach the entrance, proceed inside and check in with a host – weather permitting and if seats are available, the outdoor tables are where you want to be – to be seen and to see. These tables tend to fill up rather quickly, especially on warm spring through fall weekends.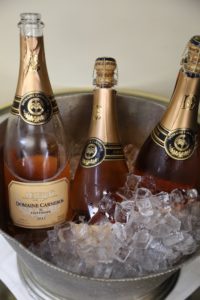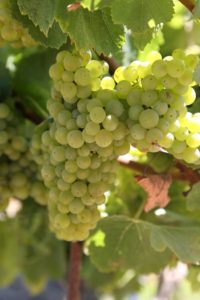 Because of the wineries' location, uniqueness of being one of only several high end sparkling wine producers in Napa, lengthy history in French, and memorable appearance of the building, Domain Carneros hosts more people than most area wineries. Because of its elevated height over the Carneros region, you have excellent views of the Carneros hills. The reserve tasting room is located downstairs and the main wine counter is located in the room to the right of the entrance. You can either stand at the wine counter or sit down at the indoor tables. Not all wineries have as many tables setup for wine enjoyment as this one. You come here for their sparkling wine and our recommendation is to choose their Sparkling tasting flight rather than their regular wine (since this is the wine style they are most known for – although they actually do produce quite a few different Pinot Noirs and Chardonnays).
Our favorite sparkling is their Le Reve Blanc de Blancs – this wine is aged longer than most of their other current vintage 'bubblies' and as a result is very smooth. On the palate is shows a wonderful creaminess – like velvet. It is a blend of several different Chardonnay clones, each of which brings a unique characteristic to this wine. The name in French means "the dream" and was created to be the answer to their French high end counterpart – but in this case using only estate grown fruit. When we mentioned this was our favorite our guide's response was "good taste is both a blessing and a curse"! Right, this is among their most pricey selections. Of the non sparkly wines they have several Pinot's including the nice California styled Estate Pinot as well as a Merlot.
Winemaker Eileen Crane has been here since the inception and has been working at Napa/Sonoma wineries who make sparkling wine since 1978. Her focus is on creating a premium consistent product each year. Another winemaker is responsible for all of their still wines.
All of their wine comes from the Carneros District – with 95% of the grapes coming from their own vineyards – spread across four separate vineyards encompassing some 350 acres. Their vineyards are located on both the Napa and Sonoma sides of Carneros.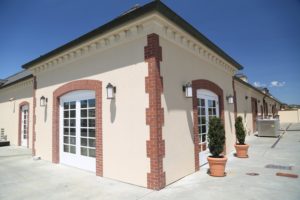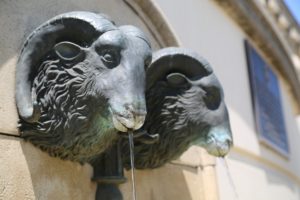 The flagship tour is offered daily year round and offers a general overview of their vineyards, property and basic information about the process of producing sparkling wines. In addition, seasonal summer tours are also offered usually in regards to their still wines. The general tour takes about an hour. No reservations are required and its best if you show up about 10 minutes before the advertised tour time to pay for your ticket and ensure your space on the tour (especially during busy summer weekends).
The tour starts in the reception room and then spends some time next to some of the vines planted around the winery. This is a good time for viticulture questions. Then you walk up to their "media" room for a glass of sparkling and short video about Taittinger and Domain Carneros. At the end of the video the screen moves up and lo and behold you are staring through a glass window at large steel tanks. Watching employees walk by, some of whom wave at you is like looking at fish in a tank.
Next you proceed to a windowed area which looks down on their large aging rooms, bottling line, and the automatic riddler machines. A few antique wine making pieces of equipment are located here as well as a display on how riddling works. We were told in the early days of bottling sparkling wines – the amount of volume in each bottle was imprecise due to rudimentary filling methods. Enter foil – these long foils were creatively introduced when bottling sparkling wines to hide the differences in volume in each bottle!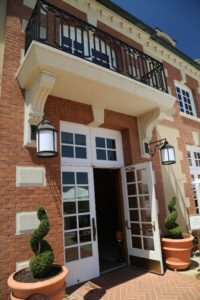 You finish the tour in the Reserve room for a sit down tasting of their still wines (several different Pinot Noirs). We've been on several tours; the guides are there to answer questions but also have a good time with their guests. During one of our visits, our tour guide told the story of a Japanese distributor who wanted to buy 5 cases for his daughter's wedding. Domain Carneros doesn't do much international shipping so they were trying to figure out how to get this to the man ASAP. It turned out his daughter was only 2 years old – and he was trying to make a point that yes, Domain Carneros's sparkling wine will age!
As a side note, in the back of their building they have one of the larger photo-voltaic systems of any winery in the world. They are certified CCOF which means all their estate vineyards are farmed organically.
In 2018 Domain Carneros opened a garden conservatory called the Jardin d'Hiver – an enclosed mostly glass room used for five-course food pairings and select tastings. It faces north overlooking one of their terraces. It was modeled after some of the glass buildings that Gustave Eiffel created in the mid to late 1800's on the Place de la Concorde in Paris. A fireplace helps keep one warm here in the winter.
Special events are offered at select times throughout the year including with winemaker Eileen Crane. Visit: www.domainecarneros.com
Winery + Grounds

Jardin d'Hiver

Champagne Taittinger, Reims France
EXTERIOR

INTERIOR