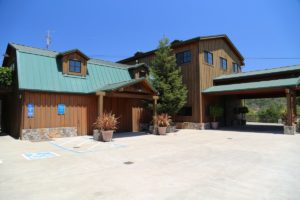 David Arthur Winery is located at the end of what is probably the most scenic "driveway" on the eastern side of Napa Valley. It rises well above the valley floor on the edge of the ridge top with incredible views on a clear day up and down the valley. The road is Long Ranch Road and is prime real estate – besides vineyard land, the owner of the San Diego Chargers had a house here as does an ex governor of New Jersey. David Long runs this winery with his brother Bob and tours and tastings are sometimes held with David or a family member (or one of their hosts). Weather permitting the tasting starts under a large oak tree set right among the vineyards – and then proceeds to the actual winery building for barrel samples. Two small bars are setup on the ground floor of the winery and typical tastings are conducted here.
David has kept a hectic schedule for the past 25 years, akin to a "rock star". The winery owns a bus with David Arthur branding on the side; David is on the road for up to 4 months each year driving from city to city, from restaurant to restaurant promoting his wines.
Because tours are not always scheduled, call for a reservation. When we visited the group size was 25-30 people. Out of these people many were friends and almost everyone had been on one of his tastings before! A big plate of food was brought out – several folks brought David wines and other spirits from around the world. Many people at the tasting were from Texas and other mid-western states. David spoke about his family's history and then his daughter started pouring us wines.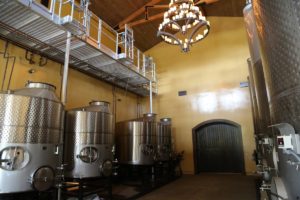 The tasting was very casual – just standing around talking to other people on a warm Spring day. This is Napa Valley personal at its best. We enjoyed a rich Chardonnay from 2006, an excellent Cabernet Sauvignon, and also their Meritaggio which is a super Tuscan styled wine (a blend of Cabernet Sauvignon and Sangiovese). Their flagship wine is the Elevation 1147 named after the elevation of the vineyard that this 100% Cabernet Sauvignon wine is sourced from. The fruit for this wine represents the best selections from this vineyard. One of their late 90's vintages received an amazing score from the Wine Spectator which helped put them "on the map".
This winery actually started by exclusively making Chardonnay before branching into other varietals. We are glad they did! Their winery and fermentation room are tiny but are a good size for their production needs. For a personal tasting and tour call for an appointment. You can sign up for their mailing list online. Visit: www.davidarthur.com
NOTE: This review is one of the oldest and few still not updated on this site – it has been identified as needing a *major* update.