Croze Wines was founded by Gary Wooten, a long time resident in the Napa Valley (who we originally met with at his home in Yountville). He has worked as winemaker with several smaller area wineries during their formative stages and helped them become established. He currently runs two labels; Croze wines which includes a Cabernet Sauvignon and a Sauvignon Blanc and the second label, Smith Wooten featuring a 100% Cabernet Franc (he originally made a barrel of Cabernet Franc to use for blending purposes but after tasting, found this wine to be excellent as a stand along varietal and ended up bottling it) and a Syrah. All his grapes are sourced from several high end vineyards some of which he has been using for many years.
It is always interesting to hear how winemakers got into the business – especially those who were not surrounded by winemaking families. Gary began making home wine in the early 1980's and some businessmen from Texas tasted the wine and liked it so much they hired Gary to produce wine exclusively for their interests. The first vintage of Croze Wines was in 1998. Since then Gary has branched out and increased production significantly and his wines are found in select markets in select states. Locally you can find some of the wine at Backroom Wines in Napa.
Gary tells of filling up his car with gas at the one expensive gas station in Yountville many years ago and the famed Robert Mondavi was also filling up his car at the same time. Mondavi who was already producing thousands of cases told him all the benefits of sourcing grapes rather than owning your own vineyards. Gary took that advice to heart; Croze Wines does not own vineyards, rather they work with a diversity of vineyards, mostly in the Napa Valley but also with vineyards in the Sierra Nevada foothills and sometimes from neighboring counties. They maintain long term contracts with premium vineyards. Today of course, many area vintners source fruit which gives one flexibility on choosing types of varietals, terroir, no overhead etc.
Croze ages their wines longer than many area wineries and as a result the current vintages are typically several years older than what you usually find on the market. The barrel aging program usually runs up to 40+ months and all the wines are tasted during this time and are removed from barrel when they are ready, in other words the barrel aging program is not locked into a certain amount of time like you may find with some of the larger wineries.
Today, President of Benton Family Wine, Daniel Benton is a partner in Croze Wines and is their primary winemaker. In our experience of Napa Valley, very very few small brands are able to successfully continue to produce wines by transferring winemaking and or ownership to non family members, once the founder reaches an age where they are ready to step back. So Croze Wines is to be commended for this and are certainly in the minority of Napa based wineries having been able to do so.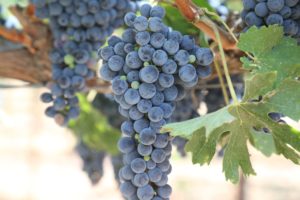 We tried the 2002 Croze Cabernet Sauvignon. This is a very well balanced wine between acidity, fruit and tannin structure. After 40+ months in oak you may think this wine would be oak driven, but not at all. There is nothing harsh about it and it shows pretty fruit flavors along with exotic spices on the palate. The 'Vin d' Une Nuit rosé is a one of a kind wine you will probably not find from any other Napa winery (we haven't seen it to date after tasting with nearly 1000 commercial Napa wine producers). Its a wine with origins in a specific region of France and the translation is Vine of One Night. This wine is left in contact with the skins overnight which gives it a color darker than most rosé's on the market.
The 2004 Croze Vin d' Une Nuit rosé with its 3.5 years of aging would have destroyed the color and probably the flavors on lesser rosé's but not this one. It is slightly off dry at 0.5% Residual sugar which is at a level where about only half of the people who drink this wine actually pick up on the sweetness. It is dark pink with great fruit driven aromatics and appealing flavors of wild strawberry.
Not many Napa wineries make a Port-styled wine, and of the ones who do the most common varietal used is Zinfandel. Croze being Cabernet Sauvignon driven makes what is in our research the most affordable Napa-Port style wine of any varietals (theirs is of course made from Cabernet Sauvignon). They fortify with barrel aged spirits which makes a huge difference in flavor and aromatics versus using the "raw" spirits. Time in 'wood' imparts a smoothness and richness not obtained by using raw spirits. The 2005 Croze Port is well layered with rich flavors of dark chocolate and blackberry.
And collectors take note, their Avatar (flagship Cabernet Sauvignon) is always sourced from the very best vineyards within their vineyard portfolio.
An interesting note about the name: Croze is the groove you find in the staves of a wine barrel where the head of the barrel fits in. Gary's wife designs the labels – note the various images of crows. Total annual production varies quite a bit, at our last update they were producing around 2,000 cases annually. The wines are sometimes poured at select events in the valley – often focusing on annual events held in Yountville.
For more information or to join one of their wine clubs, visit: www.croze-cab.com
NOTE: this review has been identified as needing a *major* update – Benton Family Wine (the parent company of Croze) is in the process of taking over the tasting room space and winery facilities on Vallejo Street near downtown Napa – this space was formerly home to several small brands including in the later years, Vinoce and Twenty Rows. We will visit this tasting room once Benton Family Wine has moved in and will completely update this review.