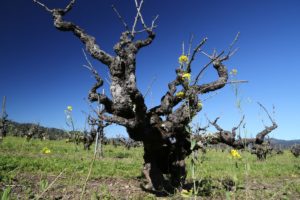 Chase Family Cellars is an ultra small winery located almost against the western hills of Napa Valley on Sulphur Springs Road just south west of the town of St. Helena. This is not a winery typical tourists to the valley will have ever heard of as it is not located along the main Highway 29 "wine strip" and their production is merely about 2000 cases. The winery sign is simply a magnet attached to their mailbox – they are not setup for large numbers of visitors and that is part of the appeal of a visit here. The cellar room is in a converted garage – but note that the massive brown doors actually give this room a "cellar feel".
The tasting room is located right next to their tanks and other winery equipment, all of which is located under their 135+ year old Olive trees. One of the winery owners is the great great grandson of a well-known local personality who lived in the area in the late 1880's – Sarah Esther Chase Bourn. Sarah's son built the famous Greystone building which now houses the Culinary Institute of America. You are certainly not going to forget that building if you see it as its massive stone structure dominates the hillside just north of the town of St. Helena. Chase Cellars focuses on Zinfandel which come from their surrounding historic Hayne Vineyard. The majority of the vines on the property are over 100 years old. As you walk out in the fields you will see these very gnarled ancient looking grapes which are all head trained therefore they are not on any sort of trellising.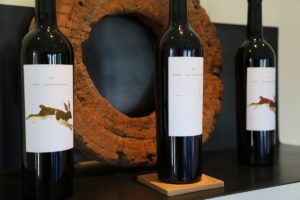 Your tasting can either be outside overlooking the vineyards in the shadows of their olive grove or in their cozy modern tasting room.
Typically you will start off with a very light wine, during our latest visit it was their 2007 Rose, a Zinfandel Syrah blend. This is a summertime wine that despite being light in body well represents the fruit flavors of both of these varietals. You will also sample several other varietals including a Cabernet Sauvignon and their Petite Sirah which is a very dark rich big wine and is even bolder than their Cabernet Sauvignon! For a big Zinfandel be sure to try their Hayne Vineyard (the vineyard on site). The fruit flavors are big, but the tannins are rather soft and elegant. Nice spices, chocolate and cherry and blackberry on the palate.
You can end your tasting with dessert – in this case a delicious non vintage Zinfandel Port. It was made to the exact specifications of the owners tastes and is not syrupy at all as the grapes were picked as normal and not left hanging on the vine for weeks after the regular harvest. The sugar does not overwhelm and it is a very smooth easy to drink Port. Start with a few sips of this and soon the bottle will be empty. This is produced in extremely small quantities as 375 ml bottles. They even make a Zinfandel Chocolate Sauce! Visit: www.chasecellars.com