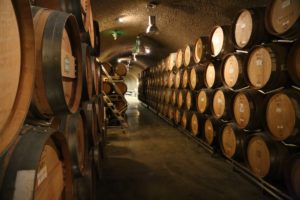 Buoncristiani Family Winery along with several other smaller wineries makes their wine at the Caves at Soda Canyon. This winery is completely underground except for the main crush pad. Most people who have tasted their wines in the Napa area do so at the Vintner's Collective tasting room in the city of Napa. If you like the wines there, be sure to make an appointment to taste and purchase additional wines. The selection at the winery is much larger than you will typically taste in the collective. This winery started in their garage in the city of Napa…this has a familiar theme when compared to some of the Internet start-up companies who were also born in their garage! Napa County will actually "bond" home garage wineries in certain locations.
Buoncristiani is run by four brothers all who have experience in the local Napa wine industry. If you are an expert in Napa winery trivia you will already know that Pina Cellars is the only other Napa winery run by four brothers…a very unique setup. However that is not what sets this winery apart – it is clearly their wine. They are detail oriented with an eye for quality, not quantity. The family runs everything related to this winery themselves from the viticulture, to the enology and even the label design.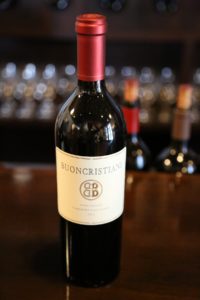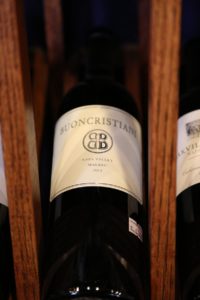 After tasting through 5 or 6 wines in the cave where they make these wines, we can say all their wines are very high quality and fit our palate like a glove. That is not always the case as often one wine will stand out as being excellent and the others just won't stand up. The leaders in the wine industry have also awarded this winery very high ratings including the Wine Spectator. Their awards of "Rising Star of Napa Cabernet" and "Top Rhone Range Producer" only help cement their quality reputation. Brother Matt was our guide and showed us around the cave and provided an overview of how they make their wine. He had a rolling cart so the wines came with us and we tasted on the tour.
Their wines are structured to drink now – they make a Rose of Syrah, Syrah – an Italian varietal called Dolcetto (not sweet, rather very dry) O.P.C., their most produced wine (a red blend) and their Cabernet Sauvignon (sourced from Napa area vineyards managed by themselves or managed by those who adhere to their strict vineyard management protocol). Note the labels on each bottle – Brother Aaron is the artist and is commissioned for each label in their artist series. Tastings and tours are private and are strictly by appointment. The best way to secure their wine is through Vintner's Collective or via their mailing list. Visit: www.buonwine.com
NOTE: this review has been identified as needing a major update.