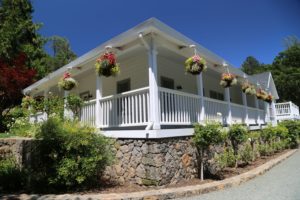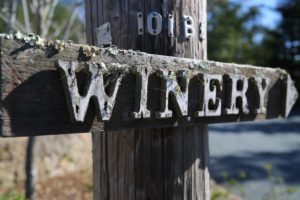 Bremer Family Winery is a historic winery located on Deer Park Road just minutes from the Silverado Trail and Napa Valley on the slopes of Howell Mountain near the small town of Deer Park. This was the 200th Napa winery that we visited during our Napa Wine Project. The winery building dates from 1891 and is combined with the original stone cellar built into the sides of the mountain. The cellar was built into the side of the hill to keep the aging wines cool. The winery is owned by proprietors John and Laura Bremer.
The cellar was originally built for smaller production levels in the late 1800's; later the Bremer's decided to drill a wine cave. The cave now encompasses 17,000 square feet – more then ample space for their extended aging programs and for the most part eliminates the need to stack barrels. Their current production is around 3,400 cases and growing. Note the various historical wine making machines the line the wall at the entrance to the cave. These devices were used at one point for filtering, bottling and other niche uses.
While situated below the minimum 1,400 foot elevation of nearby Howell Mountain this site is just as rocky as a number of Howell Mountain vineyards we have visited. An example of the type of rock can be seen in a side tunnel in the cave – it was not covered in gunnite and thick volcanic compressed ash called Tufa runs from the bottom of the cave to the top.
For such an "unassuming winery" this property has a rich historical background. A little bit of trivia – this winery was the original home to John and Jacob Sutter (with Sutter Home Winery created much later by the Trinchero Family). The Sutter's actually built this winery until they sold in 1909 and moved to what became the much larger and more visible Sutter Home Winery Winery on Highway 29. Another well-known wine making family acquired the property, the Ballentines until they sold in the late 1970's. Proprietor Bill Ballentine of William Cole Vineyards in St. Helena remembers part of his childhood spent here.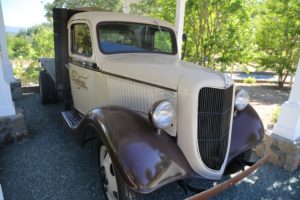 This estate property is about 17 acres of which 9 acres are planted to vine (Cabernet Sauvignon, Cabernet Franc, Zinfandel and Merlot). The Bremers also own two pieces of planted vineyard land on Howell Mountain (off of Las Posadas Road – a very historical part of Howell Mountain with the nearby La Jota Ranch).
John and Laura used to visit the Napa Valley quite often over a span of about 25 years. One day, Laura remarked "I want to do whatever it takes to never leave this Valley" which became the impetus for starting this winery. Besides being in the wholesale nursery business and earth moving business in Southern California, they are also partners in Fume Bistro restaurant, located just north of the town of Napa.
On hot days if you step inside the cellar you will be amazed at how much colder it is inside – as the cellar backs up right against the hand carved out stone on the side of the mountain. Several tasting rooms adjoin the cellar or if weather permits, you can taste outside under one of their stately oak trees next to the small scenic creek area. This is a long ways from some of the noisy, crowded tasting rooms of "the wine strip" along Highway 29 south of St. Helena.
With their connection to Fume Bistro, special tastings can be arranged in advance to include lunch. A small well-appointed alcove within the cave serves as an elegant place to taste their wine accompanied by food.
All their wine is very much hand crafted by winemaker, Bob Bolan (Bremer's winemaker since 2003); he has no other clients – wine making here is his focus. And their wine making philosophy is one of patience. Their Chardonnay often sees close to 2 years in barrel. Red wines made here are often aged up to 30 months – with an additional 3 years in the bottle before being release; this is significantly longer than many wineries. One wine released to their wine club was 9 years old at the time of it's release. Blending decisions often take several months. Bremer Family makes 8 to 12 different types of wines each year.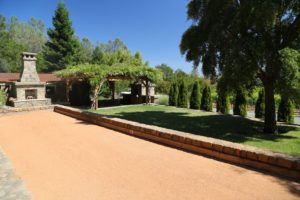 We sampled their 2005 Chardonnay and the 2004 Cabernet Sauvignon. The Chardonnay has nice characteristics of toasted nuts, caramel and crème Brule mixed with notes of fruit – pear and apricot. Some of the older Cabernet Sauvignons were drinking very nicely after aging for a few years – smooth velvet mouth feels; these are wines that are extremely well balanced. In addition, not many Napa wineries make port but Bremer makes a white port-style wine (Muscat grapes) and a red port-style wine (Cabernet Sauvignon grapes) in very low quantities.
The 2012 Chardonnay shows intense aromas – tropical notes including honeysuckle as well as ripe melon and a graphite/minerality nuance. This is followed by a palate that is creamy with a noticeable velvety softness. The finish is clean, lively and rich. This wine has nice density and drinks beautifully by itself.
The 2009 Merlot shows sweet aromatics in the glass with notes of baking spice including cinnamon, mocha and toffee. The sweetness of aromas continues onto the palate with a sweetness of fruit (no residual sugar) and flavors of ripe blackberry and plum. This is not a light Merlot – and delivers a complexity and richness of flavor. The finish shows moderate tannins.
Look for several different Zinfandels and Merlot, a Petit Sirah, their Claret which is a red blend, and Austintatious named after the owner's son (also a unique blend). As of the time of this update a Bocche ball court has been completed and the grounds have been beautifully landscaped. The upgrades to the property are the result of a number of years of effort and it certainly now shows well. For more information or to join their wine club, visit: www.bremerfamilywinery.com