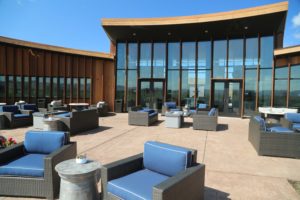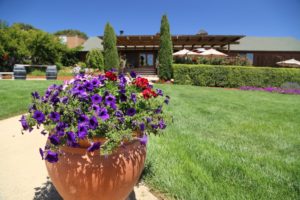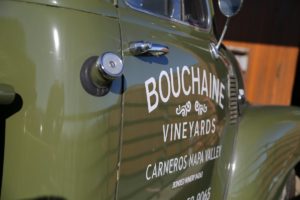 Bouchaine Vineyards is the oldest continually operating winery in the Carneros District and one of the southernmost wineries in the Napa Valley. Vines and fruit trees were first planted in the late 1890's by a man named Boon Fly (a restaurant in his namesake operated for a number of years in nearby neighboring Sonoma County) on the property and the winery has since changed ownership several times including being owned by Beringer at one point when part of the property was used for storage. Incidentally Boon Fly's son, Camillus Sidney (Buck) Fly was an accomplished photographer who took the only known photographs of Native American leader Geronimo prior to his surrender to the U.S. military in 1886 and was also a witness to the Gunfight at O.K. Coral in 1881 (happened right outside his studio – the C.S. Fly's Photographic Studio in Tombstone, Arizona).
Winery construction originally began in 1928 by an Italian vintner named Johnny Garetto which was a rather gutsy move at the time, considering this was still in the midst of Prohibition. The winery wasn't actually finished until 1933 which was the last year of prohibition (this was the first winery to receive a bond in the Napa Valley post prohibition). Johnny sold the property to Beringer in 1961.
Today the tasting room and original winery buildings remain – having been significantly remodeled since the original construction. Simply glance at the photos hanging on the side wall next to the tasting counter to see how far this property has come since it's very rustic look in the 1960's and 1970's. Note the very distinctive brown siding on the buildings – these were hand cut from large old redwood fermentation tanks originally used in the winery. What a creative way to make use of these old tanks.
The winery was sold by Beringer to the current owners, Gerret & Tatiana Copeland and partners and became Bouchaine Winery in 1980. There are two lines of thought in regards to the name of the winery. The first was well thought out; Bouchaine has a couple of meanings in French, loosely translated from bouchon, Bouchaine is French for the name of a person who put corks into wines after they were bottled (a bouchaniere); the second connotation was a bit more rushed! After the purchase of the winery in 1981, Gerret & Tatiana took a trip out of town and their lawyer needed to come up with a name quickly and was looking for something French, so he chose his wife's maiden name of Bouchaine. The Copelands eventually bought out their partners.
Gerret is originally from Wilmington Delaware; his parents were quite accomplished – his father was president of DuPont Company and his mother was a well-known horticulturist. Gerret is directly related to DuPont's founder, Eleuthère Irénée du Pont. He spent his career in finance. Tatiana's family heritage is Russian (her great uncle was the famous composer Sergei Rachmanioff). She was born in Germany, lived in Denmark for a short while but spent much of her childhood living in Argentina before moving to the USA and earning degrees from UCLA and the University of California Berkeley.
Both Gerret and Tatiana are very active in the arts and music scene both in the Napa Valley and in Delaware (including the Delaware Art Museum in Wilmington which was founded by Gerret's grandmother); they are also strong supporters of Festival Napa Valley. And over the years both have given generously to a variety of other causes focused primarily on Wilmington based locations including healthcare, the arts, the environment, animal welfare and education.
Wilmington Delaware Connections

The following select locations in Wilmington are either connected to the Copeland family or have been recipients of financial and or other support directly from Gerret and Tatiana.
The Delaware Art Museum features a number of galleries – spanning two floors. Permanent collections and displays include British Pre-Raphaelite art and works by Wilmington-native Howard Pyle. Rotating exhibits features numerous artists and styles of art. Plenty of parking is located on site – a short walk from the museum entrance. Visitors will pass by the Copeland Sculpture Garden (named in honor of Gerret's parents, Pamela and Lammot duPont Copeland) containing a number of unique outdoor works of art including the prominent bronze Crying Giant by artist Tom Otterness. The sculpture garden also features a labyrinth, built with 7 tons of Delaware River Rock.
The Grand Opera House is located in downtown Wilmington; this stately old building was constructed in 1871. The centerpiece of the opera house is the 1200+ seat Copeland Hall. The opera house has hosted famous performers over the years including actress Ethel Barrymore and composer John Philip Sousa. For nearly 40 years the opera house functioned as a movie theatre. Today it is used for primarily hosting classical musical concerts as well as ballet performances.
Kalmar Nyckel Foundation offers the public access to "the tall ship of Delaware", the Kalmar Nyckel sailing ship – usually berthed right in front of the Tatiana & Gerret Copeland Maritime Center at the Kalmar Nyckel Shipyard (Kalmar Sweden is a sister city to Wilmington). The ship is a recreation of a 17th century tall Dutch ship – it sails between May and October and during the winter months is open on the weekends for ship tours. The Copeland Maritime Center contains model ship exhibits as well as information about Wilmington's ship building history.
Mt Cuba Center is the former home of Pamela and Lammot duPont Copeland and is where Garret was raised – his childhood home. The estate is located about a 20 minute drive from downtown Wilmington. The original family home, now houses offices, the Copeland Room (featuring numerous paintings of Copeland family members) and a small atrium like room where visitors can enjoy light food items for sale. The roots for this impressive botanical garden began in the 1960s when the Copelands began converting parts of the property to natural gardens.
During opening hours, visitor can check in at the main house, pay the admission and then walk on a number of paths which meander through the foliage. The focus of the gardens is on plants occurring naturally in the eastern United States. Fall is a pretty time to visit – with plenty of trees showing bright red and yellow colored leaves. A golf cart will take visitors to select areas within the gardens including the picturesque ponds. Umbrellas are also provided for visitors to use during rainy weather.
The Tatiana and Gerret Copeland Animal Care Center is a modern no kill animal care and adoption center. Located in the Wilmington Riverfront area. Pulling into their parking lot, one is immediately greeted with the sounds of barking dogs. Operated by the Delaware Humane Association (founded in 1957) their focus is on providing homes for otherwise homeless animals (providing a home for dogs and cats until the animals can be adopted). They also provide a number of related services including spay and neuter surgery, vaccination, a well-stocked pet food pantry
—
Total acreage on the Bouchaine estate is about 104 acres of which approximately 84 acres are planted mostly to Pinot Noir and Chardonnay. Bouchaine received the first Fish-Friendly farming certification in the Napa Valley from the California Land Stewardship Institute, a local a non-profit organization. They do source some of their fruit from the Sonoma Coast and the more northerly Anderson Valley. Their estate is among the southern most vineyards in the Carneros, putting them very close to the moderating effects of the San Pablo Bay. In addition they are among the highest vineyards in the Carneros – in a region that for the most part is fairly close to sea level.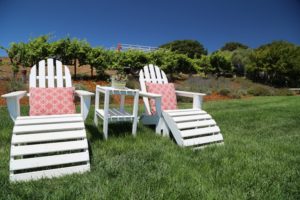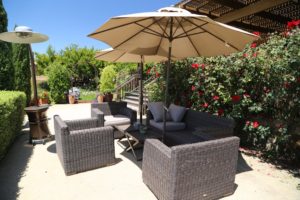 Need a break from the up valley big bold Cabernet Sauvignon wines? Being a Carneros based winery, two of their most produced wines are Pinot Noir and Chardonnay and they do an excellent job on both of these varieties. As Bouchaine says, "Cabernet Sauvignon is the king of wines, but Pinot Noir is the wine of kings."
Bouchaine produces two estate Chardonnays in different styles; this gives guests a feel for how the wine making style can effect flavor and aroma – one wine experiences no oak during fermentation and malolactic fermentation is inhibited while the other wine is aged in oak and undergoes partial malolactic fermentation.
Select Wines
A number of their limited production wines are only available at the winery and through their wine club. During one of our earliest visits to Bouchaine, several we thoroughly enjoyed were the Mariafeld Pinot Noir (you won't even see this listed on their website), their Estate Pinot Noir and the Pinot Meunier (a cousin of Pinot Noir). We've come across this variety maybe 3 or 4 times in Napa as it is not commonly produced as a still wine (more often it is used in sparkling wine production).
The 2012 Bouchaine Vineyards Pinot Noir offers a classic Pinot Noir bouquet (both the bouquet and the palate have many similarities to other Pinot Noir wines from this part of the Napa Valley). The bouquet shows hints of cocoa powder and raspberry. The core of the palate is red fruit – red currant and cranberry and spice notes. It is a lighter wine with bright fruit and good acidity. We have tried several vintages of this particular variety from Bouchaine and each one is an elegant wine.
The 2007 Bouchaine Vineyards Pinot Gris displays a pretty gold color with a somewhat dry gravel very fruit forward nose leading to various citrus notes on the palate. This wine pairs very well with shellfish. In our experience there is very little of this variety planted in the Napa Valley.
The 2017 Bouchaine Las Brisas Vineyard Riesling is from a 1-acre block within this vineyard. There is not much Riesling planted in the Napa Valley or on the Napa side of Carneros and presumably not much from the Sonoma side of Carneros either (where this fruit was sourced from). Pale dried straw color in the glass offers ripe aromatics of golden delicious apple, pineapple, honeysuckle, honey and an orange peel zest. Also citrus blossom. Rounded but not creamy across the palate – offers flavors of green apple, kiwi, a minerality nuance and lingers with lively acidity on the finish. The fermentation was stopped leaving the wine with a hint of residual sugar – but we were unable to pickup on any sweetness in this particular wine.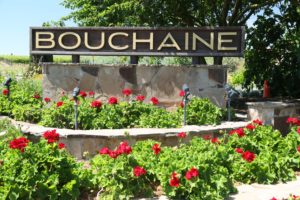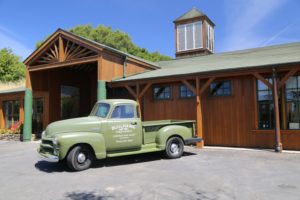 The 2012 Bouchaine Vineyards Terraces Pinot Noir was harvested from the top of the two highest hills on the property. It is dark for a Pinot Noir. The nose shows an earthiness along with a mushroom nuance. As the wine breathes both of these characteristics dissipate somewhat to the background revealing red fruit aromas. The palate is superbly balanced showing a sweetness of fruit initially. This wine has decent structure with fairly fine-grained tannins that last for some time on the finish.
Dessert wine enthusiasts take note – Bouchaine produces a very pretty Bource d'Or (translates to Taste of Gold) from Chardonnay grapes. The Bouchaine Vineyards 2007 Bource d'Or is amber in color and strikes a nice balance between flavors of honey and brown sugar. With a residual sugar of 19%, this wine is very sweet, but it is not so high in alcohol – only 11%. It is always refreshing to find a dessert wine with lower alcohol. Stone fruit and minerality nuances are found in the bouquet, with flavors of peach, and honey notes on the palate – however the finish isn't gripping due to extreme sweetness like some cloyingly sweet dessert wines, rather it is smooth and quite well balanced. This wine is only made during select years.
Former winemaker Michael Richmond had over 30 years experience producing high quality Pinot Noir & Chardonnay. He was also the co-founder of of what was Acacia Winery (now Calmére Estate Winery).
—
What do you find in their wines? We find a sense of place, the rolling hills of southern Napa, the soaring hawks, the gentle Carneros breezes blowing off the San Pablo Bay, the drifting fog, the solitude of being among a sea of vines and the fine expression of that year's story. We hear the sound of a private jet departing Napa County airport. We look up. We want to go somewhere. Exotic. And drink #bouchainewines
Think of the two C's when discussing the best places for bike riding in Napa – Calistoga to the extreme north in the Valley and Carneros to the south. Bouchaine is one of the most bike friendly wineries in Napa; often bikers will stop by on there own or with one of the many local bike tour companies. Bouchaine is certainly available for bike groups as there is a large lawn and tent setup (when weather permits) behind the tasting room as well as deck seating. Most Napa wineries who have built "long games" into their grounds build Bocce Ball courts – not so with Bouchaine. Rather, look for the fun horseshoe pit in the back!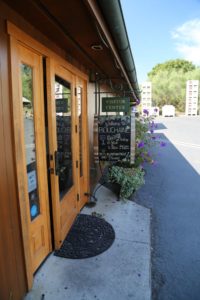 The tasting room staff is very friendly and helpful. In 2008 the tasting room was totally remodeled and now shows wonderfully. In the mood for hiking? Bouchaine maintains a unique 7/10ths of a mile, self guided vineyard walk, highlighted by 14 different stops. Not a bad way to work up a thirst by any means and plus, it is an educational tour as well.
Be sure to pick up the "vineyard walk" brochure from their tasting room before you start. Several stops on the tour afford one very good views of the Carneros district, the Napa River and the San Pablo Bay. Biking, or want to have lunch here – ask about their Table for Two picnic basket service. And Bouchaine offers special and unique events at certain times of the year including Star Gazing in the Vineyard and Falconry experiences. Several falcons (with GPS monitoring) are released daily in the vineyards by local falconers – these birds of prey help limit the rodent and other bird population on site.
In the summer 2017 construction began on what is now a 5,000 square foot hospitality center and tasting room experience. The center features a commercial kitchen, a lounge and tastings (including food and wine pairings) and is available only by appointment with visits initially reserved for wine club members. The building was completed by October 2019.
From the outdoor patio one has excellent views overlooking lower Carneros and the San Pablo Bay. The inside features a tasting bar (made from reclaimed wood) and a lounge area next to the extremely impressive open-air commercial kitchen (containing the 'king' of range ovens) as well as paintings primarily from local artists. This hospitality center was built by Wright Construction, a prominent firm that has built or worked on a number of Napa Valley based wineries including Cakebread Cellars.
Total production varies – during multiple visits we have been told between 7,000 and 10,000 cases a year but we have also seen numbers published by reputable sources online indicating a case production up to 20,000 cases a year. For more information and or to join their wine club, visit: www.bouchaine.com
VISITOR CENTER
Exterior

Interior

VINEYARDS

WINERY

BIRDS OF PREY

CLUB MEMBERS HOSPITALITY LOUNGE
Exterior

Interior

GERRET & TATIANA COPELAND SELECT SUPPORTED LOCATIONS, WILMINGTON DE
Delaware Art Museum, Wilmington DE

Grand Opera House

Kalmar Nyckel Foundation

Mt Cuba Center

The Tatiana and Gerret Copeland Animal Care Center