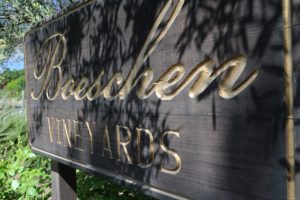 Boeschen Vineyards is a boutique family owned and operated, completely self contained winery located north east of St. Helena off of the Silverado Trail. We first came across their wines at a Cheers St. Helena event (back when these events were held monthly on main street) which is where they were pouring their first ever release. Enjoying what we tried we made a point to soon follow-up with this winery. Boeschen Vineyards is owned by the Boeschen Family; they acquired the property in 1999 (with existing vineyards) and sold the fruit to several other local producers for several years.
There are certainly a number of ways one becomes a winemaker. Take Doug Boeschen who was working as a management consultant in the San Francisco Bay Area and never had a background in the wine industry. Owning vineyard property and looking to switch careers Doug began working for a local vineyard management company in the valley. Enjoying the work and looking to further his education in the wine industry he enrolled at UC Davis and graduated with a degree in viticulture and enology. This is an interesting situation where a particular piece of property was actually instrumental towards his career change.
Doug received some of his practical training at Napa's Sequoia Grove Winery, in Bordeaux France and at the well-regarded Spottswoode where he helped to craft some of their world-class Cabernet's. Today Doug is the primary winemaker, and partner in Boeschen Vineyards along with his father and brother in law. He has a gentle approach to wine making, showing the vineyard fruit rather than oak, managing tannins well and crafting wines with moderate alcohol levels. With the winery located on site and a number of tanks, they have the option to pick at various times throughout harvest to create small lots. Having multiple small lots is always advantageous when making final blending decisions.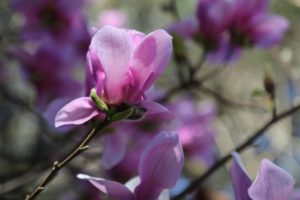 We have certainly met with more than a number of boutique producers in the valley and for such a small operation their winemaking facility is definitely among the nicest more innovative wine-caves we have seen. The entire winery operation is contained underground in their small, elegant but very functional cave. The Boeschens actually designed most of the cave which was built by well-regarded Lail Construction (a construction company located in Napa who specializes in high end often wine related construction).
Despite having only 11 acres of vineyards they have a huge number of soil types on the property which as Doug says, adds additional challenges in the vineyard management but certainly brings complexities to their wines. Soils range from deep loam to 10 inches of topsoil over an impenetrable layer of ash. The vineyard also backs up to "glass mountain" which is an area known for its black obsidian and this type of rock is also found in their vineyards. Doug oversees their vineyard and helps with canopy management, fruit dropping and harvest decisions. Four varietals are planted on site with the majority being Cabernet Sauvignon.
Boeschen Vineyards is managed extremely sustainably. They do not till the soil, use their own compost and introduce beneficial insects and predatory birds (owl boxes are scattered among the vineyards). Their sustainable farming practices have been validated; in 2007 they were certified by the county of Napa as Fish Friendly Farming (Napa Green) and were only the 9th winery in Napa to receive this.
As of the time of this review Boeschen specializes in several wines including a Bordeaux style blend named Carrera and a Cabernet Sauvignon. Doug's father enjoys racing vintage Porches'; Carrera is a type of Porsche. We have been tasting some really good wines lately and this is one of them. The 2006 is 93% Cabernet Sauvignon with small amounts of Cabernet Franc, Merlot and Petit Verdot blended. You can sometimes tell an elegant wine from the bouquet – in this case the aromas show elegant floral notes, dark red fruit, and just a hint of cedar. The entry to the rounded soft palate is very approachable at this wine's young age showing a hint of baking spices, dark red cherry, and a pleasant touch of cocoa to round out the fine grained tannins on the finish.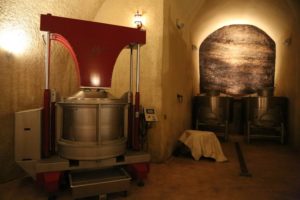 The 2006 Cabernet Sauvignon is a fairly dark wine in the glass with a bouquet showing a neat dustiness and earthiness quality – with a touch of cigar smoke interwoven among the delicious fruit aromas (ripe blackberry). This wine has good structure with broad well defined tannins. Plum, dark cherry and just the right amount of tartness towards the finish make this a good wine to enjoy with a meal. This is a bigger wine than the Carrera with some of the earthiness found on the bouquet also represented on the finish; both wines should have excellent aging potential.
And their wines have done quite well in various competitions. One of their estate Cabernet Sauivgnon's earned a Double-Gold for the top category at the San Francisco Chronicle's 2016 Wine Competition. The Carrera Estate Blend has also done well – to the other end of the state, it won the Best of Class Award in the 2016 Los Angeles International Wine Competition. This is a major competition with over 3,000 wines entered from nearly 1000 wineries.
All fruit for their wines are entirely from the estate. They are still selling a majority of their grapes so they do have room to grow their production in the future. At the time of this review they are producing only about 1200 cases each year.
The estate is gorgeous; the "master gardens" are set in the style of the 1890's. The property has a fascinating history; a prominent business man is rumored to have built the original house and barn in 1890 for his mistress. A Russian princess even lived on site for some years. A camellia nursery and a Christmas tree farm also operated at various times and the greenhouse on site is reportedly the oldest metal framed greenhouse on the west coast and has been featured in Sunset Magazine. The property is surrounded by forested hillsides and is located in its own little small valley – what first strikes someone about a visit here is the beautiful quiet and the gorgeous natural setting.
Because of the sizable harvest in 2013, Boeschen Vineyards bottled a stand alone Petite Verdot wine. Only 75 cases were produced.
A visit to the estate is for serious wine enthusiasts and is by appointment only. Your tasting will always be with one of the family members or one of the wine making team.
The best way to acquire their wines is to join their mailing/allocation list or wine club. For more information Visit: www.boeschenvineyards.com