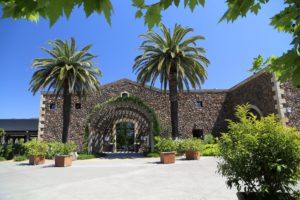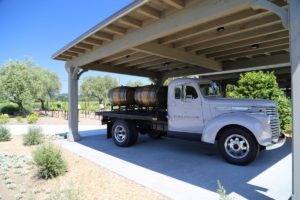 Black Stallion Winery began virtually – meaning they did not own a physical winery or property (their first release dates from 2002). Their hospitality center opened to the public in May 2007.
The 40 acre property is located off of the southern part of Silverado Trail in the Oak Knoll Appellation. We visited several times during the construction (tasting was in a trailer at that point – how far they've come since then!) as well as after the "new winery" officially opened. Look for the large statue of the black stallion in the front – don't actually park here – the main parking lot is located in the back of the winery accessible via another driveway off of the Silverado Trail.
The winery site used to be horse stables and an equestrian center called the Silverado Horseman's Center and had a long rich history before shutting down in the 1990's. It housed an indoor riding track with an outdoor arena that seated up to 3000 people. The original equestrian center (behind the tasting room building) has now been remodeled for winery production uses. Historical information about this and the Silverado Trail hangs on the wall near the tasting counter.
Also of note is one scene in the movie, Apocalypse Now was filmed here. Director Francis Ford Coppola has had a long time connection to Napa (through his own winery, Inglenook Estate). Black Stallion was owned by two brothers Terrance and Michael Maglich until they sold to the current owners in 2010, the Inedelicatos who operate as Delicato Family Vineyards. The Indelicato's founded their wine business in 1924 in Manteca California and today own a variety of California vineyards and brands.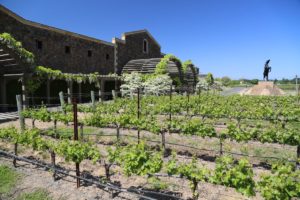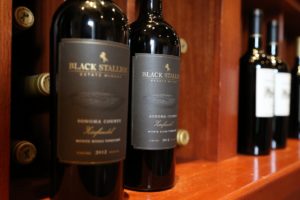 The estate wines are from the vines on the property (surrounding the winery) – these were originally planted when the winery was built. Note the signed demonstration vineyard on the side of the winery near the parking lot. This is one of the few demo vineyards in the Napa Valley that is labeled row by row depending on the varietal planted.
Later they acquired additional adjoining acreage and have planted these to vineyards as well, and in in 2008 hired a full time winemaker. Today approximately 18 acres of vines grow on site. When we first visited Black Stallion their total production was around 4000 cases (this has since grown quite a bit). Initially, unlike many area wineries, all their wines were sold only at the winery or online – but today they have select distribution in certain states around the country.
This winery has no affiliation with the Black Stallion movie – so no souvenirs for this movie are sold here – although for marketing purposes this would not be a bad idea. You can however purchase some artsy looking horses as well as rusted iron "good" luck horseshoes! This is the only Napa winery we have seen selling horseshoes inside the tasting room – although it certainly fits when you take into account the properties' history.
The inside is plush with high ceilings and is tastefully decorated. A large circular tasting bar can accommodate large numbers and on the weekends and even many summer weekdays it can be very crowded inside. Part of the reason for the lively atmosphere is Black Stallion initially made a robust marketing effort to bring people here for tastings. One end of the tasting counter looks out the window onto their vineyards. A beautiful private sit down tasting room is located next to the tasting counter and sometimes we've seen people sit here rather than at the bar.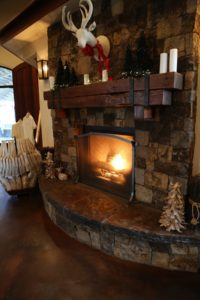 A special reserve tasting is offered and includes the Bucephalus, one of their premium red wines (a red blend) – which if you know your ancient Greek and Roman History you will recognize Bucephalus as the black horse that Alexander the Great always rode into battle.
Private tastings can also be scheduled ahead of time. Choose 4 wines from their list of 8-10 reds and whites. Nice Pinot Grigio – their Sauvignon Blanc seemed to be an off dry wine (some residual sugar left when the fermentation was stopped). Their sweet wine Muscat Canelli tends to sell out quickly due to limited production. As of our latest visit, they make a dark colored rosé of Merlot, a Merlot, a Syrah (looking for a BBQ anyone?, and a Cabernet Sauvignon.
What most visitors do not see when they stop here are the gardens in the back of the winery complete with a walking path. There are several benches located here – on a warm spring or summer day this is a great place to sit and relax. There are also raised beds with vegetables here.
For more information or to join one of their several wine clubs, visit: www.blackstallionwinery.com
NOTE: this review has been identified as needing a major update.