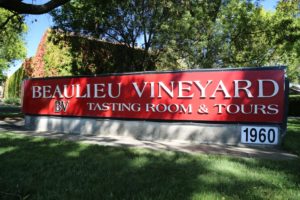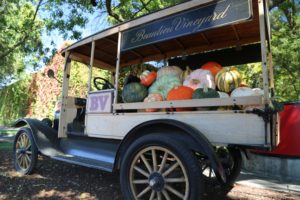 Beaulieu Vineyard (pronounced like bowl-you). This historically prominent and iconic winery is located on the corner of Rutherford Cross Road and Highway 29 in the small town of Rutherford. This is several miles south of St. Helena on the "wine strip" where some of Napa's most visited and venerable wineries are located. This site is home to both Beaulieu Vineyard's General and Reserve tasting rooms, their impressive and sizable production facility and the always busy Rutherford Grill. A large parking lots wraps around the back of the property – either accessed directly from Highway 29 or from Rutherford Cross Road (anchored on the east side by the well-regarded Rancho Caymus Inn).
Beaulieu Vineyard (the original property, not their first vintage) was established in 1900 by Georges and his wife Fernande de Latour with the purchase of merely 4 acres of land. Georges was a chemist who came to the Napa Valley from France's Dordogne region. Over the ensuing years they purchased much larger nearby properties in Rutherford including BV Ranch #1, BV Ranch #2 and after Prohibition, BV Ranch #3. Prohibition was the last nail to be hammered into the metaphorical coffin for most wineries in the United States. Not so with Beaulieu Vineyard, rather they thrived during this trying time in the wine industry as they had a national contract with the Catholic Church for producing Sacramental wine. Emboldened from actually making a profit during Prohibition and perhaps sensing Prohibition might eventually end, the Latour's purchased the old Seneca Ewer Winery (founded by State Senator Seneca Ewer). This stone winery building was completed in 1885 and is the current home of Beaulieu's winery. However, this was not the original site of Beaulieu's winery.
In 1908 and 1909 Beauliu Vineyard leased the old H.H. Harris Winery (built in 1887 and now home to Martin Estate Winery) to make the first vintages of Beaulieu Vineyard. The first commercial release was the 1909 vintage. Prior to acquiring the Seneca Ewer Winery, Beaulieu Vineyard made their wine at a winery Georges de Latour established on one of their Rutherford sites. It was also by 1909 that de Latour established a sizable nursery business supplying various grafted vines to vineyards.
The winery takes its name from what Fernande said when she initially viewed the property, "Quel Beaulieu" which in French means "beautiful place". If only she had merely said "bien" meaning "good" in English, then maybe they would have taken a different name and we could pronounce the name easier. However just do like the locals and call it BV for short.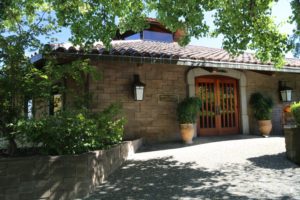 Georges died in 1940 – for 11 more years Fernande oversaw the winery operations. After she died the winery was transferred to her daughter Madame Hélène de Pins and her husband, Marquis. By 1969 the Madame sold the winery to Hueblein, Inc. While the family sold Beaulieu Vineyard they held on to other vineyard property in Rutherford including what is now called the Beaulieu Garden. We have visited this magical property once during a wedding – the driveway is long and lined with Sycamore trees leading to gardens with a European feel to their layout. The site is selectively used as a premier high-end wedding venue. The surrounding vineyards are highly pedigreed.
Beaulieu Vineyard has seen a number of ownership changes since the de Latours; today it is owned by Treasure Winery Estates. As of 2018 according to Wine Business Magazine, Treasury Wine Estates farms the most vineyard acres of any entity in the entire Napa Valley – some 3400+ acres, the majority of these vines are leased rather then owned.
Look for the Beaulieu Vineyard wooden sign along Highway 29 just south of the winery announcing their location. This is one of Napa Valley's iconic signs, one that soon becomes part of the landscape if you live or work in the Napa Valley. But if you stop and look at this sign closely – it is visually intriguing and seems from another era.
Beaulieu Vineyard's wines are well distributed in many locations across the country including major supermarkets. Due to the reach of their wine in numerous markets, a long history of producing wines and a highly visible location along Highway 29 – their tasting rooms can often be crowded especially on busy weekends. Visitors coming to the property from late morning until well into the evening will be tempted by the delicious aromas wafting out from the massively popular Rutherford Grill, located next to the winery.
The primary tasting room is in a picturesque small round masonry brick and wooden building. A complimentary taste is always given of a Chardonnay or Sauvignon Blanc when you walk into the main tasting room – before the regular paid tastings. This tradition dates back to Fernande who believed in always offering their visitors a glass of wine as soon as they walked in the door. The Club Room is located in the same building on the bottom floor and is often used for larger groups who have prior reservations (buses or vans pull right up the entrance).
Beaulieu Vineyard produces a number of different tiered wines including a wide diversity of wines bottled under the Maestro label (often available in restaurants nationwide), Appellation wines, Dessert Wines (usually a Muscat and a port-styled wine) and the highly sought after Reserve wines. The Private Reserve Georges de Latour Cabernet Sauvignon has been made every year since 1936, the exception being 1944 when a fire destroyed much of the winery. It is a wine that is often associated as being a collectors wine and has been showcased at number of premier functions over the years, including at the White House and for Hollywood events including the Emmy awards.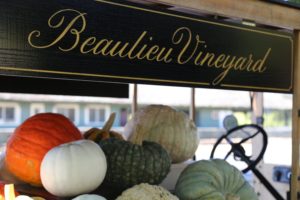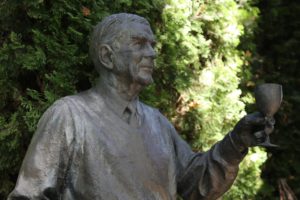 Reserve wines are tasted in the Reserve Tasting room, located across the parking lot from their main tasting room. However, contrary to what you might think based on the name of this tasting room – several tastings may be offered here, including both a general tasting as well as a higher end tasting of their most coveted red wines. Weather permitting the General tasting is held outdoors in the patio and the Reserve tasting is held indoors at the bar with bar stools surrounding the marble counter-top on all sides. During several visits we have always observed mostly older men working in this particular tasting room. And perhaps this makes sense – during several tastings over the years, we have noticed that in their youth, the wines are stylistically very masculine.
When we walked in the Reserve Room one time asking to take a few photos of the interior, one of the hosts said "ok, as long as you are not a spy from nearby Robert Mondavi Winery". Nice!
Select Wines
Unlike other tastings in Napa, the Reserve tasting highlights clonal differences in wines of the same variety (Cabernet Sauvignon). And in addition, visitors get to try two vintages of each clone – often a vintage that is over 10 years old and a current release of the coveted Georges de Latour Private Reserve is also offered with this respective tasting.
The 2014 Beaulieu Vineyard Private Reserve Georges de Latour Cabernet Sauvignon (was blended slightly with Merlot and Petit Verdot). The wine shows initial aromas of dry dirt which as it opens makes way for fruit aromatics including plum and blackberry. A hint of chocolate is more in the background. Dark and aromatically dense, the bouquet foreshadows the richness on the palate. Packed with depth of flavor the wine is anchored by course grippy and chewy tannins that continue to persist for quite some time on the finish. Mouth watering acidity with a cherry nuance and influence from the oak (cedar and caramel) also linger. If you drink this wine young – it is obviously best to decant before serving – it has plenty of age ahead of it.
The 2005 Beaulieu Vineyard Clone 6 Cabernet Sauvignon shows aromas of plum, sage and aromas of old cedar box – bringing back memories of my grandmothers old red velvet lined cedar box that she kept some of her most valuable jewelry in. Very pretty bouquet. Juicy and mouth watering on the palate shows plenty of life and vibrancy 12 years at the time of our tasting post vintage. Also still delivers plenty of noticeable tannins – dusty, drying but more fine grained rather then coarse in feel. Very long finish.
And a wine first made in 1968, Rarity is only produced during exceptional vintages. The 2013 Rarity was only the 5th ever wine made under this label – and to date has been the only Rarity bottled as a Cabernet Sauvignon (rather then as a field blend). Also of note, this wine was only bottled in magnums with pricing at $1000/bottle upon release ultimately commanding much higher prices in subsequent years.
Perhaps a long lost and little known piece of Beaulieu Vineyard history is their "Champagne". An old cellar on the other side of Highway 29 on the Georges LaTour Etate in what is also known as Beaulieu Gardens (used as a wedding site) is a "Champagne" Cellar built in 1915 and used until 1991 to produce Beaulieu Vineyard bottled Champagne (sparkling wines). This cellar still exists but in 2017 was converted into a private wine storage facility for clients known as the Rutherford Wine Vault.
—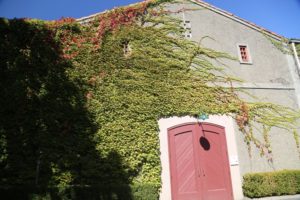 In the back of the courtyard next to the Reserve Tasting Room stands an imposing statue of André Tchelistcheff. Compose your photos looking up so he towers over you (despite his diminutive size in real life – not even 5 feet tall). Arguably André was one of Napa's most influential and well-respected winemakers. Born in Moscow he was the son of Russia's Chief Justice of the Moscow Court of Appeals and the godson of Prince Lev Golitsyn (also a winery owner at one point on the Crimean Peninsula – Ukraine). Andre's family fled the Russian Revolution of 1917 to Kiev. Later André joined the White Army and fought in the Russian Civil War on the Crimean Peninsula. At one point his unit came under machine gun fire – André was left for dead and his father even held a funeral for him.
Eventually his family moved to France where he met Georges de Latour who was looking for a new winemaker for Beaulieu Vineyard. André agreed to come to the Napa Valley and arrived in 1938. It was his wine making knowledge and expertise that helped perfect their wines including their Pinot Noirs. He stayed with Beaulieu Vineyard for some 35 years before retiring in 1973. His career didn't end then – he continued to significantly contribute to the local wine industry as a winemaker and soils expert and even returned to Beaulieu Vineyard in a limited capacity in the early 1990s. Some old time vintners we have spoken to fondly remember André stopping by in his blue Corvette to chat – always with a cigarette in hand. As of our last update to this review in 2019, André's wife Dorothy, in her 90's is still living in the city of Napa.
While at Beaulieu Vineyard, it is impressive to note that André was able to develop world class wines with limited resources. He is still referred to by some former elderly employees as "the Maestro". And his nephew Alex Golitzin co-founded one of Washington's top wineries Quilceda Creek along with his wife Jeannette.
And long time Napa vintner and founder of Stag's Leap Wine Cellars, Warren Winiarski had this to say about André (from an interview Warren did for the Bancroft Library at UC Berkeley), "He was a unique combination. He provided, in his own soul, this extraordinary combination of science and poetry. That's what it takes in this kind of thing. He was uniquely and surpassingly, perhaps, gifted with this combination of those two aspects at a very high level." His influence was an integral part of Beauliu's history.
Along with André, Beaulieu Vineyard has only had several primary winemakers throughout its history including Theo Rosenbrand and one of the valley's legendary but under the radar personalities, Richard Peterson and later Joel Aiken, Jeffrey Stambor and currently Sonoma County native, Trevor Durling. For a fascinating look into a specific period of Beaulieu Vineyard's history in the late 1960s and early 1970s – read the excellent book The Winemaker by Richard Peterson with a section chronicling his time making wine at Beaulieu Vineyard.
Beaulieu Vineyard owns a sizable number of Napa vineyards ranging from southerly Carneros to Calistoga in the north. However, their primary vineyards are located behind the winery and still are the heart of their Private Reserve label. As with several of the older larger Napa wineries their barrel room also contains large redwood tanks (over 100 years old) for fermenting large lots of wine. Historically these large tanks were used by Napa wineries – today they are rarely seen anymore.
And along with several other Napa wineries, Beaulieu Vineyard made an appearance in the 1959 film This Earth is Mine.
—
Treasury Wine Estates
Treasury Wine Estates is currently the 4th largest wine company on the planet. Treasury was formerly the wine division of the Australian based Foster's Group and was founded in 2011 – although its roots can be traced back to the mid 1990s when Foster's began to build out their wine division. Treasury Wine Estates owns or manages some 22,000+ acres of vineyards in Australia and New Zealand and nearly 10,000 acres of vineyards in the USA (mostly in the Napa Valley, Sonoma County and California's central coast).
As of our latest update to this review they are the largest controlling entity of vineyards in the Napa Valley through mostly leased land. They own several of the Napa Valley's most iconic, historical and storied producers including the following six wineries: Beaulieu Vineyard, Beringer, Etude, Provenance, Stags' Leap Winery and Sterling. In addition, they own the Napa Valley brand Hewitt. And of the other brands under their ownership, Penfolds in the Barossa Valley, Australia is arguably the most famous.
Headquartered in Melbourne, Australia the company also maintains offices in Napa, Oakland, London, Shanghai and Singapore. In 2019 the company moved its headquarters to one of the uppermost floors in one of Melbourne's most iconic buildings, the T&G Building located on Collins Street a few minutes walk from the Flinders Street Railway Station.
The T&G building, named after the T&G Mutual Life Assurance Society was built in 1928 and features a gorgeous atrium like setting and high-end retail shops on the ground floor as well as 10 floors of office space. This was one of Melbourne's first large scale office buildings. Despite being one of Melbourne's prominent and historical buildings, Treasury Wine Estates keeps a very low profile and has no signage.
—
For more information about this treasured Napa winery and or to join one of their wine clubs (including a Cabernet Sauvignon only club), visit: www.bvwines.com
Primary Tasting Room

Reserve Room

Miscellaneous