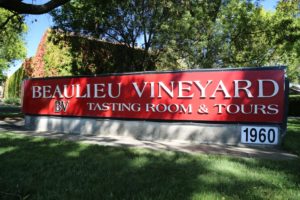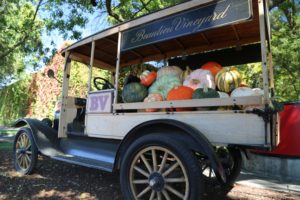 Beaulieu Vineyard is a prominent highly historic winery located on the corner property of Rutherford Cross Road and Highway 29 in the small town of Rutherford. This is several miles south of St. Helena on the "wine strip" where some of Napa's most visited visited and venerable wineries are located. The sizable winery facilities are also located on site.
Beaulieu was founded in 1900 by Georges and his wife Fernande de Latour with the purchase of merely 4 acres of land. The winery takes its name from what Fernande remarked when she saw the property for the first time. She said, "Quel Beaulieu" which in French means "beautiful place". If only she had merely said "bien" meaning "good" in English, then maybe they would have taken a different name and we could pronounce the name easier! However just do like the locals and call it BV for short.
A winery actually existed on site dating from the 1880's. Georges and his wife purchased the property in 1900 and they soon built its capacity up to 3x its original size. Their first few vintages were not made on site but rather at another historic winery, what is now Martin Estate, also located in Rutherford. Prohibition was the last nail to be hammered into the metaphorical coffin for most wineries in the United States. Not so with BV, rather they somewhat thrived during this trying time in the wine industry as they had a national contract for producing sacramental alter wine for churches.
Look for their wooden sign along Highway 29 just south of the winery announcing their presence. This is one of Napa Valley's iconic signs, one that soon becomes part of the landscape if you live or work in the Napa Valley. But if you stop and look at this sign closely – it is really visually pretty and certainly other Napa wineries don't have their own signs announcing their presence well before their driveway like this one.
Beaulieu Vineyard has a large distribution and falls under the class of "well visited" Napa wineries. For a quick major contrast in types of winery facilities visit BV and then visit Elizabeth Spencer across the street – one of the smaller walk-in tasting room buildings in Napa Valley.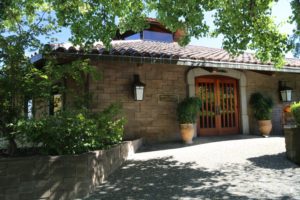 If you visit BV from late morning onwards your olfactory nerves will be tempted by the delicious aromas wafting out from the massively popular Rutherford Grill, located next to the winery. You can often find BV wines in many locations across the country including major supermarkets. They are very well distributed.
Their primary tasting room is in a picturesque small round wooden building. A complimentary taste is always given of a Chardonnay or Sauvignon Blanc when you walk into the main tasting room – before the regular paid tastings. This tradition dates back to George's wife Fernande who believed in always offering their visitors a glass of wine as soon as they walked in the door.
BV makes a number of different tiered wines ranging from their Signet (most often found in restaurants nationwide), to their Napa wines, to their coastal estate wines. Their Private Reserve Cabernet Sauvignons are very popular and often end up in collections to be aged for a number of years. This is a wine they have made every year since 1936, with the exception being 1944 when a fire destroyed much of the winery. It is a wine that has ended up in top collections and at number of well-known functions over the years, including at the White House and for Hollywood events including the Emmy awards.
All reserve wines are tasted in the Reserve Tasting room, located across the parking lot from their main tasting room. Note the imposing statue of Andre Tchelistcheff located near the entrance to this tasting room. Compose your photos looking up so he towers over you (despite his diminutive size in real life – not even 5 feet tall). Arguably Andre was one of Napa's most influential and well-respected winemakers. Born in Moscow his family fled the Russian Revolution of 1917 to Kiev. Later Andre joined the White Army and fought in the Russian Civil War on the Crimean Peninsula. At one point his unit came under machine gun fire – Andre was left for dead and his father held a funeral for him.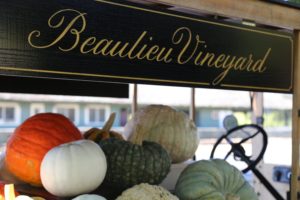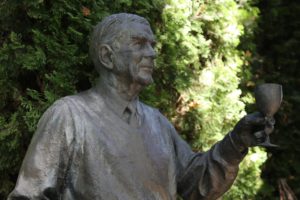 Eventually his family moved to France where he met Georges de Latour who was looking for a new winemaker for BV. Andre agreed to come to the Napa Valley and arrived in 1938. It was his wine making knowledge and expertise that helped perfect their wines including the Pinot Noirs. He stayed with BV for some 35 years before retiring in 1973. His career didn't end then – he continued to significantly contribute to the local wine industry as a winemaker and soils expert.
While at BV, it is impressive to note that he was able to develop world class wines with limited resources. He is still referred to by some former elderly employees as "the Maestro".
And long time Napa vintner and founder of Stag's Leap Wine Cellars, Warren Winiarski had this to say about Andre (from an interview Warren did for the Bancroft Library at UC Berkeley), "He was a unique combination. He provided, in his own soul, this extraordinary combination of science and poetry. That's what it takes in this kind of thing. He was uniquely and surpassingly, perhaps, gifted with this combination of those two aspects at a very high level."
As with several of the older larger Napa wineries their barrel room also contains huge redwood tanks for fermenting large lots of wine. These are in fact still used today.
BV owns a sizable number of Napa Vineyards ranging from southerly Carneros to Calistoga in the north. However, their primary vineyards are located behind the winery and still are the heart of their Private Reserve label.
When we walked in to their Reserve Room asking to take a few photos in their reserve room, they said ok, as long as we were not spies from nearby Robert Mondavi Winery…nice! Some items from the small gift shop that used to be located downstairs have been moved upstairs. The reserve and main tasting rooms are favorite stops for Limo tours.
For more information about this iconic Napa winery, visit: www.bvwines.com
Primary Tasting Room

Reserve Room

Miscellaneous