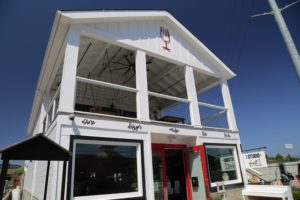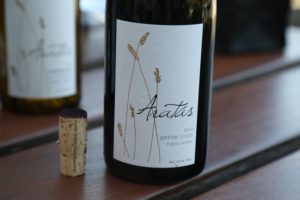 Aratas Wine (pronounced Era-toss) was founded by wife and husband Stephanie Douglas and John Chohany along with John's brother Mickey. They produced several vintages starting in 2004 but their early wines were made for personal use. Their first commercial vintage is from 2008. Thhe Chohany's heritage is Hungarian; the name Aratas in Hungarian means "harvest of gold".
Stephanie is involved in wine on both coasts she is originally from the San Francisco Bay Area. Along with her role at Aratas, she also serves on the board of the Chesapeake Bay Wine Classic Foundation (raises money for charity and has also raised money for the Napa Valley Vine Trail). And John and Mickey are restaurateurs; both are from Williamsburg Virginia and in 1985 jointly took over operations at Second Street Restaurant in Williamsburg running this as a sports bar until converting it into an American bistro in 2007. In 2013 they opened their second, Second Street Restaurant location in Newport News (about a 30 minute drive between restaurants). They continue to operate both restaurants – and yes, Aratas wines are served in each location.
Stephanie speaks reverently about Petite Sirah – a varietal that is intriguing to her both for it's history and for the wines it produces.
Petite Sirah's roots are relatively recent – dating back to 1860 in Montepelier France when a nurseryman Francois Durif cross pollinated a Syrah with the today little known Peloursin grape. It came to California in the mid 1880's and was originally planted at Mission San Jose. By the 1960's it was one of the most planted grape varietals in California.
And their focus is on cool weather climate Petite Sirah. It is difficult to find single vineyards in Napa planted to this varietal – much less finding this varietal planted in the cooler parts of the valley. For several years they sourced fruit from a Petite Sirah Vineyard in Napa's Oak Knoll District (a region of the southern Napa Valley known for growing a diversity of varietals, and a cooler region then to the north in the valley). When this vineyard was sold, unfortunantely the vines were replaced in favor of Cabernet Sauvignon. Later vintages of Petite Sirah are coming from another cooler weather vineyard on the slopes of Mt. Veeder.
Select Wines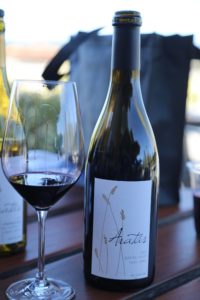 The 2012 Veneration (70% Petite Sirah and 30% Syrah) is as dark in the glass as some magician's inky black potion. Powerful aromatics, floral with fruit – including plum and blackberry. As the wine breathes it also reveals a black pepper spice component and hints of leather. Suppple on the palate this wine offers intense flavors – dark plum, blackberry and boysenberry.
Has depth and richness on the palate without muscular tannins that this varietal is often known for. Big but balanced. Dusty fairly well integrated tannins show on a finish filled with fruit. This is a seriously good wine! And in homage to the Chohany's Hungarian roots, this wine was aged for 23 months in Hungarian oak (fermented with indigenous yeasts and bottled unfined and unfiltered).
The 2010 Aratas Petite Sirah shows noticeably dark in the glass with very pretty darker fruit aromatics including plum, blackberry and notes of black licorice and darker chocolate. Also floral with notes of violets as the wine continues to breath in the glass. This darkness of fruit on the bouquet continue onto the palate which is very well layered with an intensity of fruit flavors. Long lasting somewhat earthy tannins (somewhat polished by age) anchor a very long finish. A pleasure to consume, 7 years since it's vintage date.
Aratas has also made a Petite Sirah from the Shake Ridge Vineyard in Amador County (owned by respected viticulturist, Ann Kraemer).
Their first big recognition for their Petite Sirah came from a Wine Spectator event. Marvin Shanken, the publisher of Wine Spectator and several other publications took notice of their wine and awarded it the highest rating to a Petite Sirah given by the Wine Spectator in more then 30 years.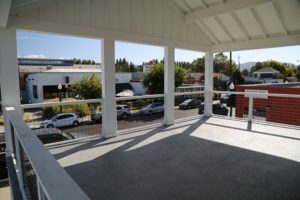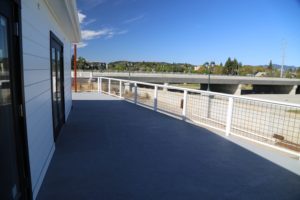 While their focus is on Petite Sirah, they also make a Chardonnay. The 2015 Chardonnay was sourced from the Napa side of Carneros. This wine is noticeably dark golden in the glass. Aromatically rich, it reveals an intruging and layered bouquet including dessert spices, notes of creme brule, honeysuckle, dried straw and melon. Rich in flavor with good viscosity (somewhat creamy), the finish lingers for some time along with notes of vanilla.
The Studio by Feast it Forward
Aratas is one of up to sixteen vintners featured in the The Studio by Feast it Forward (opened in June 2018). This showroom is located directly across from the Oxbow Public Market and packs in numerous experiences in a small space. This two story building houses an "experiential showroom" as founder Katie Hamilton Shaffer calls it with a focus on wine, food and music.
Each vintner represented offers several wines – several of the showroom's sponsors have prominent placement including the Gibson Guitar Lounge. A Chocolate tasting is also offered and there is a vinyl station for playing a variety of old records. Upstairs features a demo kitchen – when shows are being filmed here, televisions downstairs will broadcast the live feed. This kitchen can also be used for guest chefs to offer culinary classes.
And visitor's will want to stop by their bathroom – a television embedded in a mirror plays Feast it Forward culinary shows. The site can be used for a number of events – they have plenty of space in the back of the building. The Ultimate Airstream Film Lounge trailer is often be parked in the back – they use this trailer when they are on the road hosting unique lifestyle events. One such event at the showroom might be the "Terrible Tuesdays" in which bad films with cult like followings will be shown.
The second floor has a sizable surround building deck – and features swinging 'beds'. This is an ideal perch to watch passerbys going to Oxbow Public Market or those enjoying the park next to the Napa River. These are also some of the best seats in the area to watch live performances at the nearby green.
Total production each year is just under 2,000 cases, with select distribution to several states including their primary markets of California and Virginia. For more information and to join their wine club, or schedule a visit with Stephanie in Calistoga, visit: www.arataswine.com
NOTE: we need to verify if the Aratas wines are still available at The Studio by Feast it Forward.
The Studio by Feast it Forward

Second Street Restaurant, Williamsburg
Visit and photos coming by 2021.
Second Street Restaurant, Newport News
Visit and photos coming by 2021.